LOCK AND DAM (click print view to get full clue
LbNA # 13559
| | |
| --- | --- |
| Owner | Safari Man |
| Placed Date | Feb 23 2005 |
| County | Washington |
| Location | Marietta, OH |
| Boxes | 1 |
Found By
Family Grave Seekers
Last Found
Sep 1 2012
Status

F

F

a

F

F

F

F

F

F

F

F

F

F

F

F

F

F

Hike Distance
?

active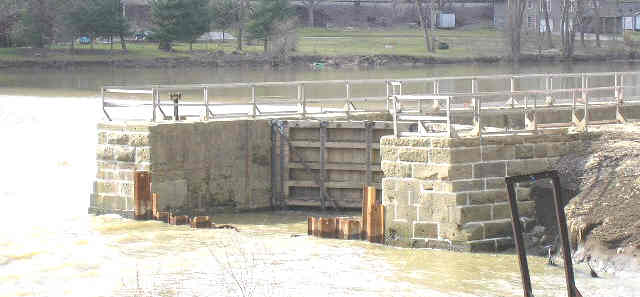 Box Replaced 5/29/08. Hope it never floods again. Yea Right!

Boats are moving through the last hand-operated lock system in the nation. People are fishing along the waterway dug as part of Ohio's canal system in 1841. The mighty Muskingum River is roaring over a dam, and wildlife is seen along the banks. The scene is something out of the early 1800s yet it is just minutes from the modern conveniences of grocery stores, gas stations and golf courses.
The sites are part of the locks and dams installed along the Muskingum River in 1841. Each is owned by the state as part of the Muskingum River Parkway, a state park that stretches the distance of the river from Coshocton to Marietta. The sites are an unknown gem of Ohio where history and natural beauty meet, and each is just a few minutes drive off Ohio 60. For more on this lock and dam system go to: http://www.mariettatimes.com/communities/rivers/rec2.asp

Here is your opportunity to see a hand operated lock.

Please bring a stamp pad, your stamp, an old rag and a pen.
Difficulty: Easy
Terrain: Flat and its a hop, skip off of the road.

Clues:
In Marietta get on H.W. 60 and go northwesterly 3 miles from the intersection of H.W. 7 and 60 at 3rd and Washington St.. After you pass the House Of Wines And Fine Dining on your left, you will see the Devola road sign and will be turning left at River Road. (If your hungry or want a cool drink, I highly recommend the House of Wines and Fine Dining and try their Reuben sandwich and/or Swiss Onion Soup) Proceed 1.4 miles on River road to the lock. At the lock you can park in the parking area and observe the lock from close up. After checking out the Lock, get turned around, drive back along the exit road a very short way and park at the pull off along side the road on the river side. Look left and you should see a telephone/electric line overhead on the opposite side of the road. Follow this telephone/electric line downriver to the pole where it heads away from the river. Between this pole and the road is a large tree with guess what? A hole in the base....(all of my trees have holes in the bases). Go to this tree and discretely move the rocks aside and remove the black box. I suggest you return to your car and do the stamping and replacing everything back into the baggie and box. Reseal the box and baggies completely and then discretely return the box to the tree hole and replace the rocks. Maybe you will be lucky and get to be here in the summer when there is a boat locking through. Quite an interesting operation.