Constitution Ohio
LbNA # 13702
| | |
| --- | --- |
| Owner | Safari Man |
| Placed Date | Mar 8 2005 |
| County | Washington |
| Location | Belpre/Marietta, OH |
| Boxes | 1 |
Found By
patti and steve
Last Found
Jul 25 2011
Status

F

F

F

F

F

F

F

F

F

F

F

F

F

F

F

F

F

F

F

F

Hike Distance
?

active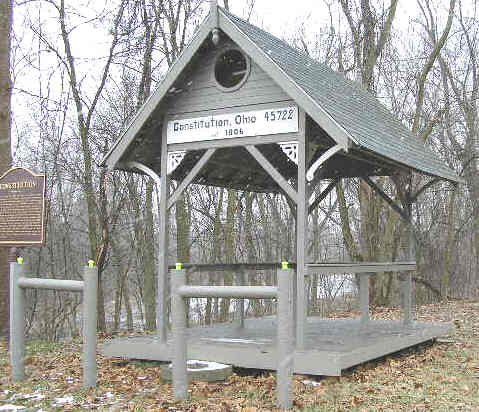 Please bring a stamp pad, your stamp, an old rag, gloves? and a pen.
The box is a black standard size box.
Difficulty: Very easy
Distance: From car and back is approx. 50 yards max.

Judge Ephraim Cutler was one of the important people in the settlement of the Northwest Territory and significantly contributed to Ohio's development most of his life. Cutler arrived with his family in Washington County, Northwest Territory in 1795.
He served as a delegate to the Ohio Constitutional Convention in Chillicothe in 1802, where he was instrumental in vetoing slavery in the new state of Ohio. In 1806 Judge Ephraim Cutler founded Constitution here on the banks of the Ohio River where he established a profitable stone quarry business. The name Constitution was derived by the fact that Ephraim's father Manasseh Cutler (1742-1823) authored parts of the Ordinance of 1787 in the United States Constitution. Constitution was an early Underground Railroad Station for fugitive slaves escaping across the Ohio River from Virginia . Ephraim Cutler is buried nearby at Gravel Bank Cemetery. Also, if you look under the back of this shelter you will notice it is supported by old mill grinding stones that were quarried from stone found nearby in this area. Quarried by Cutler?

Terrain: Drive up then a fairly short walk on flat ground.
Time: Less than 15 minutes after you park.
Distance: Less than 20 yards from car to quest and back again.
Please bring your stamp, a stamp pad, pen and an old rag to wipe off the box/your hands.

Clues.
Take H.W. 7 north out of Belpre approx. 5 miles or H.W. 7 south out of Marietta approx. 8 miles to the "Catfish Paradise" at the CR3 (Veto Road) turn off. Turn off toward the fishing place but look to the left as you pass it. On the left you can turn in to the Constitution Shelter and park off the road. Go up to the Shelter and read the historical marker and then on to the back of the shelter with your back to the shelter. Take 19 steps and look to your left. There should be an old rail road tie lying on the ground. The Constitution Ohio letterbox is under a flat rock on the back side of this tie near the tree. Discretely retrieve the box and do the stamping and then return all items to the bag and reseal it and the box well and discretely return the box to its hiding spot and conceal it well. Have a fun boxing day.