Harra Covered Bridge
LbNA # 15249 (ARCHIVED)
| | |
| --- | --- |
| Owner | Safari Man |
| Placed Date | May 23 2005 |
| County | Washington |
| Location | Barlow/Beverly, OH |
| Boxes | 1 |
Found By
GSD 1
Last Found
Feb 27 2009
Status

F

F

a

F

F

F

F

F

F

F

F

F

F

F

a

r

Hike Distance
?

retired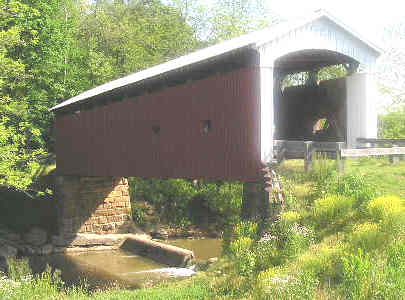 Difficulty: Find is easy but care should be exercised when retrieving the pouch at the end of the hunt.
Time: Less than 20 minutes after you park.
Distance: Less than 50 yards from car to quest and back again.
Please bring your stamp, a stamp pad, pen and an old rag to wipe off the box/your hands

Clues:
Note: There have been snakes spotted in the area where this box is planted so be carefull when retrieving and replacing it.
Your starting point is either Barlow Ohio or Beverly Ohio on H.W. 339. From Barlow go north 7.2 miles and from Beverly go South 4.6 miles. From this point go left from Barlow and right from Beverly onto Camp Hervida Road. Go 3/10 miles and take the road to the right as soon as you see the bridge. When you get to the bridge pull over to the left in front of it and park. Go through the bridge, peering through the windows as you go and see if you know any of the names on the inside of the bridge. If your there at the right time you can join in the beer blast that seems to occur there ever so often. Once you reach the far end you will see a steel retaining wall running from the end of the bridge out toward the road on your right. At the end of that steel wall, under some rocks, on the high side, is your quest. You can either get to it from above or below, with caution. When your done stamping, please reseal both baggies well to keep the log dry and if you brought your fishin pole feel free to try out the hole right under the bridge.