Frolicking Feline
LbNA # 16414
| | |
| --- | --- |
| Owner | Funhog |
| Placed Date | Jun 17 2005 |
| County | Skamania |
| Location | Carson, WA |
| Boxes | 1 |
Found By
(hidden)
Status

F

F

F

F

F

Hike Distance
?

active

Last Edited
Mar 12 2016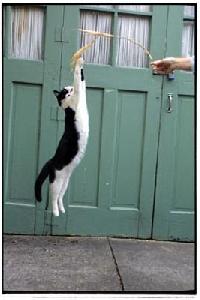 This hike will take you to stunning wildflower meadows if you go in May or June. The rest of the year, expansive views of the Columbia River Gorge at the summit will be your reward for completing this challenging 7.1 mile loop hike. Being a cat lover, I figured that canines were getting way too much attention, having their own eponymous mountain. This is my effort to give felines equal time.

To the trailhead: From the north end of The Bridge of the Gods in Cascade Locks, OR, go twelve miles east on Washington Highway 14. There is a large gravel parking area on the left side of the road. A day use fee or Forest Pass is required. Be sure to have plenty of water and shoes that fit well. The 2800' elevation gain will definitely test your endurance. Begin at the Dog Mountain trailhead.

To the letterbox: Take the longer way up and the longest way down, never retracing any of your steps. As you begin the downward leg of your journey, you will be walking beneath the open sky. Soon your path will enter shade and shadow. Just before the hairpin turn to the left, your path will brighten as a group of deceased elders reach for the sky, clearing the way for beams of light. At the apex of the turn, slightly off trail, you will find a snag to the right, the letterbox at its base.