Firefly
LbNA # 16575 (ARCHIVED)
| | |
| --- | --- |
| Owner | coyote.compass |
| Placed Date | Jul 12 2005 |
| County | Multnomah |
| Location | Corbett, OR |
| Boxes | 1 |
| | |
| --- | --- |
| Found By | |
| Last Found | |
| Status | r |
| Hike Distance | ? |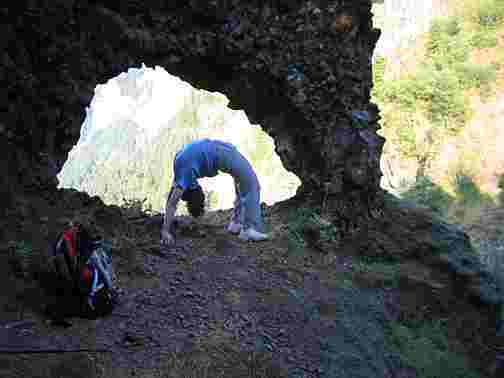 PLEASE NOTE: BOX IS MISSING AT THIS TIME. WILL TRY AND REPLACE IT SOMETIME THIS SUMMER...
It's about time! I finally planted a box more or less in my neighborhood. This trail is for sure footed, well balanced boxers with healthy lung capacity. Responsible adults will NOT bring their children to look for this box. If you are old enough to drive yourself, you should be capable of making good decisions on this trail, the first of which is whether to even attempt it. If you haven't already found these boxes, http://members.aol.com/letterboxr/usa/crgfalls.htm , plan on getting some of them too. That way, if the trail looks dicey, i.e. too soggy, too windy or too steep for you, you will still have the fun of looking for other letterboxes. Of course it is very fun just to come up for the waterfalls and the views.
You can find this box high up on the Rock of Ages trail, though it's less than one mile up that trail. There is a map of the trail on page 96 of Bill Sullivan's "100 Hikes in Northwest Oregon", in which he writes: "Start as for the Horsetail Falls trail, but at the ridge end immediately before Ponytail Falls, climb up to the left on an un-maintained user path. The next half mile is a confusion of steep scramble trails."
As you begin this trail, realize that the first few steps on it are what the better part of the trail is like. Realize that going up is the EASY part. You may want to climb back down the trail, just so you have an idea what you are in for on your return trip. There is a huge perspective difference and the mechanics of getting up vary a great deal from the methods of getting down! For this reason, I highly recommend a collapsible walking stick that you can put in your pack for the climb up and bring out for the careful slow way down. If you can't get a collapsible stick at least bring some kind of support. You will want it on the way down, I guarantee.
You will want to use your hands quite a bit on this trail. I recommend gloves and or hand sanitizer. You may even want a moistened washcloth, if you will want to clean your hands before your lunch break. To find your way through the "confusion of steep scramble trails", bear left at the first two forks. If you take a right at the first fork, the trail tries to descend to the falls stream. Maybe it does eventually get down there, I've never felt the urge to go very far on that trail. The next fork you come to, you will see the trail go down around an old snag (dead tree still standing). If you miss this trail you have another chance to go the correct direction, if you take a left at the next fork.
If you wanted to continue the Rock of Ages trail, stay right from here and according to Bill, "Follow the view packed, rocky ridge crest up to a wooded plateau, turn right on the Horsetail Creek Trail for 3.5 miles and descend the Oneonta Trail 2.9 miles to the highway", making a 9.4 mile difficult loop. Me, I've never wanted to walk that far, but I think it's really worth it to pass up those turns and take the next fork that goes left/straight. This is going to take some pretty serious climbing, but it's quite a thrill, I think. I almost hid my box here. There is a great view of Beacon rock and Bonneville Dam, plus a nice flat rock to sit on and have a snack.
To get to the box, back track and take one of the trails that leads out towards the river. I think the lower trail may be slightly better than the upper, but they're both little more than deer trails. Keep glancing up the hill on your right for the first glimpse of your objective. (see photo above)
When you find the arch, look out through, if you dare, to see if the TV's (turkey vultures) are hanging out. Sing a little song. Sing a big song, if you want. More than likely, nobody else has been crazy enough to try this trail and you will not disturb any one with your noises!
When you stand immediately before the arch, the railroad tracks and scenic highway below will be at 28 * magnetic. I84 is on the same line, further in the distance. The letterbox is hidden almost at eye level, in a hole at the base of a tree at 288*. There is one medium sized rock covering the hole. It's hidden very well, but I don't know if it's critter proof. I will be checking on this box soon to find out. Please e-mail me if you think it's gone.
This box is dedicated to the deceased TV series, cut down in its prime, Firefly. I imagine the terrain would be fitting for Serenity to fly up from below, as she did in "Train Job", to rescue our heroes from the U-day brawl. But don't mistake the arch for her hold. You ain't a gonna float like them vultures if you step off. You might find your own personal, beloved TV series coming to a truncated end! Speaking of which, I really want to encourage seekers to have a care for the hill they are climbing up. Trails can fall in the gorge and never get back up. Some of us still miss the Perdition trail. So mind your manners and maybe the trail will be there again, like Firefly making a run on the Sci-Fi Channel, starting July 22nd at 7:00. Check it out!